PAN Card for indian residents  in just 15 days at their  postal address all over India-Mumbai,Delhi,Bangalore,Hyderabad,Chennai,Kolkatta,Pune,Hyderabad-all India.-100 percent guaranteed for Rs 300/-.PAN is now compulsory for everyone to enter into any transation in India.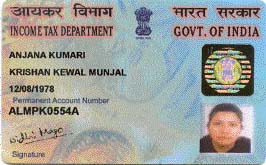 Please follow the following 3 steps-
Step-1-Please take printout of the 49A PAN form shown on the bottom of this page-fill it up with a pen-mention only your Indian residential postal address.(Please dont mention your A.O Code, area code, ward,range and representative assessee details. It shall be taken care by us.) Affix the snap on the space provided, fill up all the miscellanous particulars and sign it -one beneath the snap and the other at the end of the form.
Step-2 Please enclose the photocopy of the  following documents along with the 49 A PAN form.-
Identity proof-copy of Driving lisence, election card, credit card, employment card,or any other card showing your identity along with your photograph.(any one.)
Birth Proof- Copy of Ration card, passport, school leaving certificate, birth certificate,election card,or any other proof showing your birth proof.(any one of these.)                                                                                                                                                                                                                    Residential address-copy of telephone/electricity bill, mobile bill, bank statement, credit card bill, or any other proof showing your address.(any one.)
(Passport copy shall suffice for all the above 3 proofs.)
Step-3 Credit card/debit card/visa/master card-You are required to make the payment of Rs 300/- online via ,master card/credit card/online banking on the link shown at the bottom of the page shown down below or   you can directly deposit Rs 300/- online into our bank account as-under-"Nikunj and Associates", Axis bank, Worli branch, Annie beasant rd, Mumbai, India, account number- 911020044421789 . After making the payment, scan the aforesaid documents  and  the 49A PAN form  in jpg or pdf format  and send the same to us via email at our  email address specified down below.
FILERETURN.COM PRIVATE LIMITED.(incorporated in 1999)  
24 hours  helpline call  C.A.Nikunj Shah- -+91-9820442177 -Mumbai-India     
Click here to download 49 A PAN form
email: contact@filereturn.com (documents are to be sent at this email address).
Click here to pay Rs 300 online
JOIN NOW FOR 24 HOURS ONLINE VIDEO CHAT FOR PAN CARD FOR INDIAN RESIDENTS  ON YAHOO MESSENGER-ID- FILERETURN2003                           
Please note-We are private people-not government people. We just undertake the activity of filing 49a PAN applications with UTI and guarantee you the delivery of PAN card in just 10 days at your Indian  postal address.We shall process the work only after receipt in advance of our charges.